Gallery of Opportunities
Form Builder
Smart Forms
Do you wait for long times for the application to be developed! Do you lack the infrastructure to set up systems and people to kick start your business online? Do you see how complex it is to design a database based application?.... eCube Apps Form Builder can make anyone feel comfortable in quickly creating instant on the fly Forms using drag and drop controls with rich experience of flexibility and making complex forms simple.
You can now make Amazing forms without writing a single line of Code. You can make them work for you in minutes.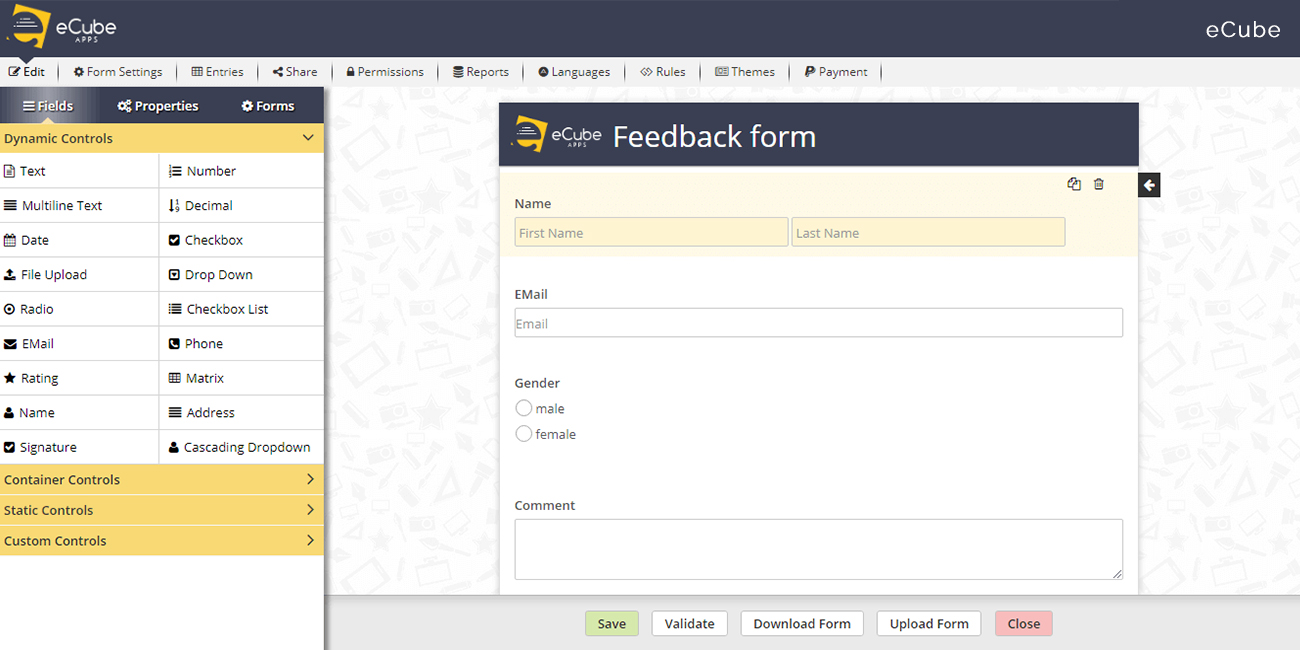 Theme Designer
Brand it the way you want!
Wondering how you can leverage your branding and showcasing talents on these forms? Then you must know that you have the choice to design and replace your own logo suitable for the form. You can also change the way your form appears to the end users. eCube Apps Theme Builder comes with excellent features and a wide range of options to enable you to decide the color and style of your forms and make them look beautiful! However, the on the fly forms are equally competent and good looking too.
Get ready to make your reports, payment forms, Invitations and Registrations look more professional and Naturally as great as your Organization's Brand.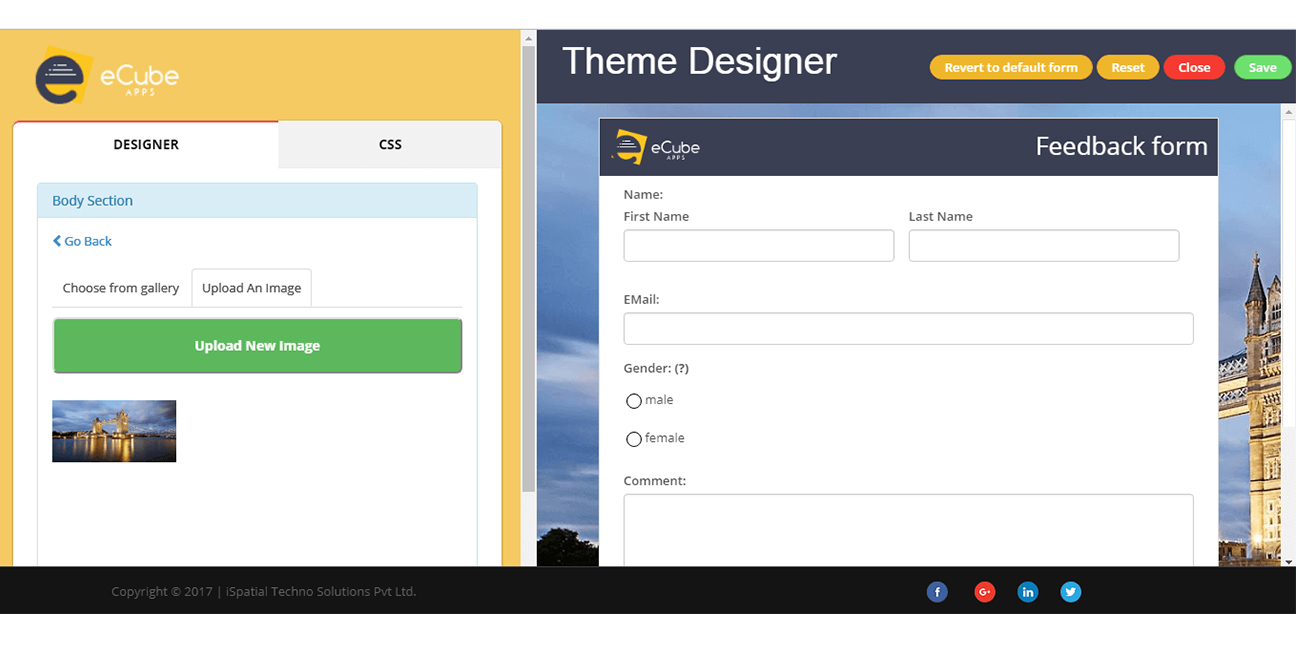 Form Share
Simply Embed for Seamless integration
Do you want all your friends to know what you are doing? Does your SEO need a free hand to share in social media? Do you want to be quick and also control who is accessing your forms?
Using eCube Apps Form Share you can share with the public and in social media and increase your reach out, you can also share with people through a secure password and expand your business possibilities or you can totally reserve access to the privileged users who can login and access forms for special purpose inputs.
You decide Now and instantly make it available to your amazing customers!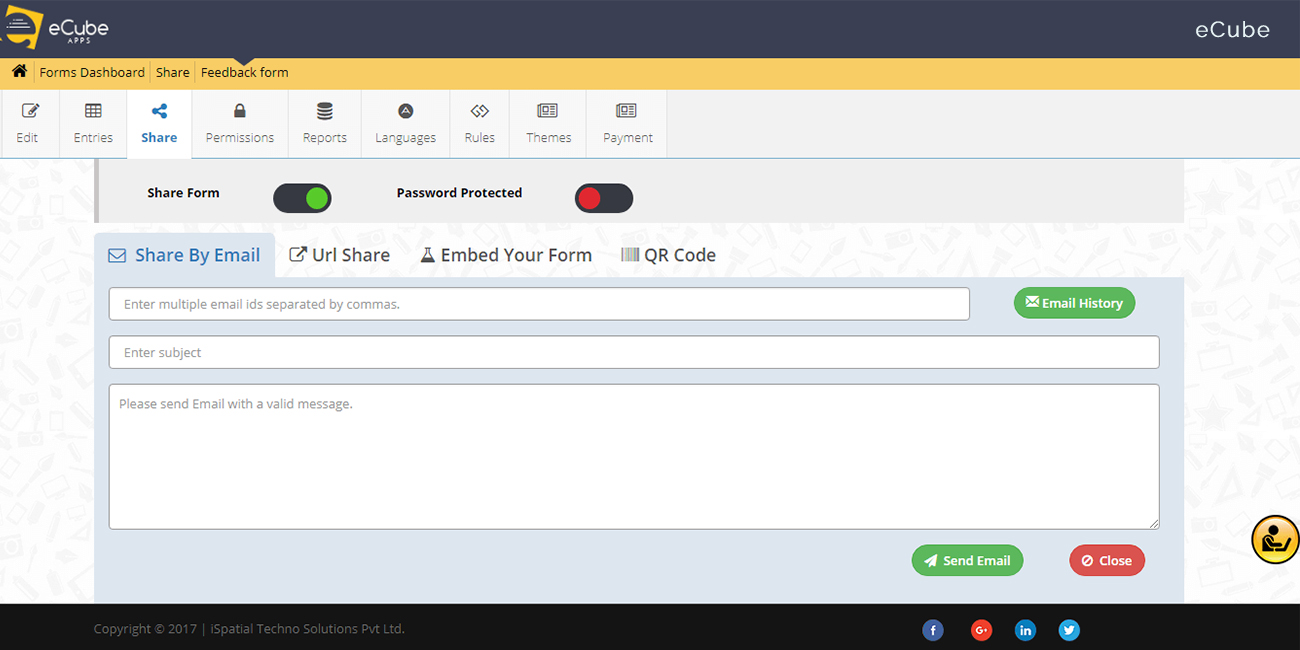 Field Validation
What you get is Valid and meaningful Data
When your users are filling the forms, you expect them to provide the correct data. We can make it easy for you in two ways.The user will get proper prompts and validation messages to enter only valid data at the same time feel comfortable and interested. eCube Apps Field Properties will give you an opportunity to set the validation requirements as simple properties and we will provide all the formatting and email, phone etc., as per the requirements. Finally, your data will be meaningful and valid.
Rule Builder
Your forms work as per your Logic
Do you want your form to be dynamic in nature and respond to the customer based on his inputs? Do you want to ensure valid inputs by hiding or displaying different controls based on previous inputs? Then you got the right tool to do all that. eCube Apps Rule Builder allows your forms to work as per your logic. Pre set Conditions, visibility and data collection aspects of the form change as per your instructions and the beauty of it is the end user doesn't know all that complexity going on behind!
You can now make Amazing forms without writing a single line of Code. You can make them work for you in minutes.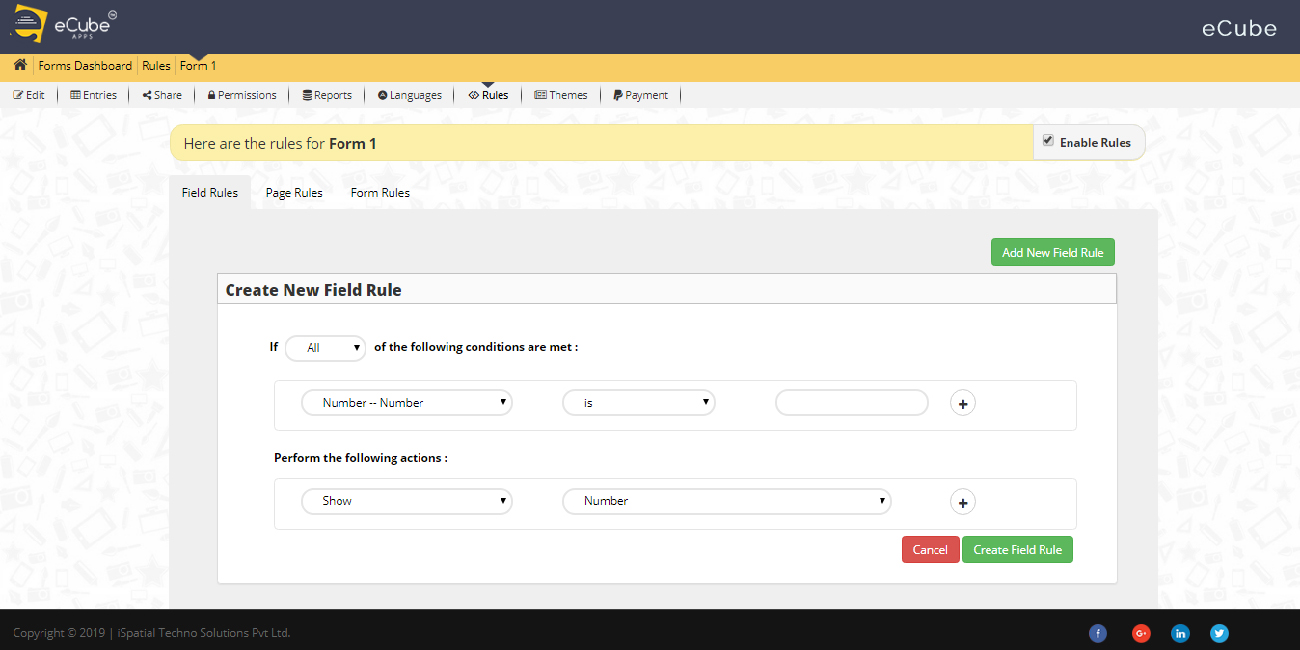 Notification Settings
Speed of communication is the power
Instant communication to all the stake holders and spontaneous reply to critical alerts are few examples of how the speed of communication powerfully influences the business. eCube Apps Notifications Settings will help you to inform all the required people in the system or allow you to respond to your customers through the email notification settings, Auto Responders for each form. Be it an invitation or an Event notification or a payment alert, you will be able to reach the customers in No time!.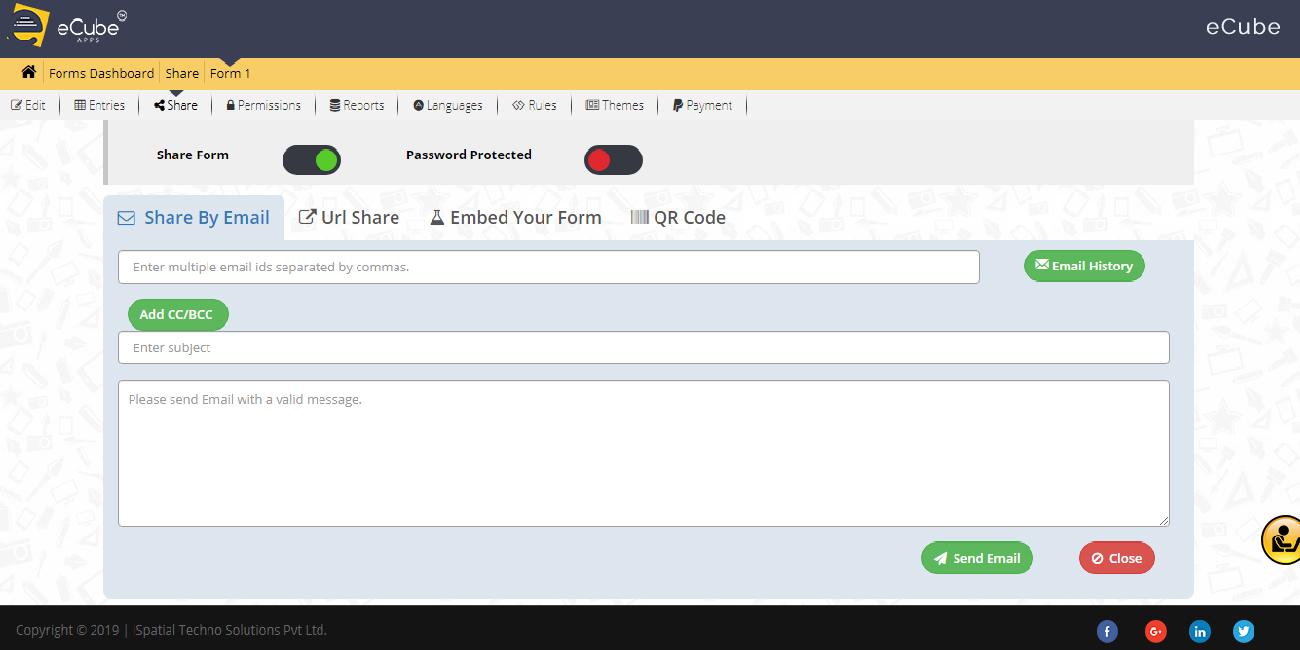 Report Builder
Real meaning and power of your data
Just the data alone can not give you any insight about the people or the market trend. The real meaning and the power of the data lies in the fact finding and summary reports. eCube Apps Report Builder comes with dynamic reports allowing you to create visualizations made using charts, graphs, summary controls, pie charts etc.
You can see the user response statistics and discuss among the selected group with authorized access mechanism. The reports scale up to the levels of your imagination in setting up your report requirements.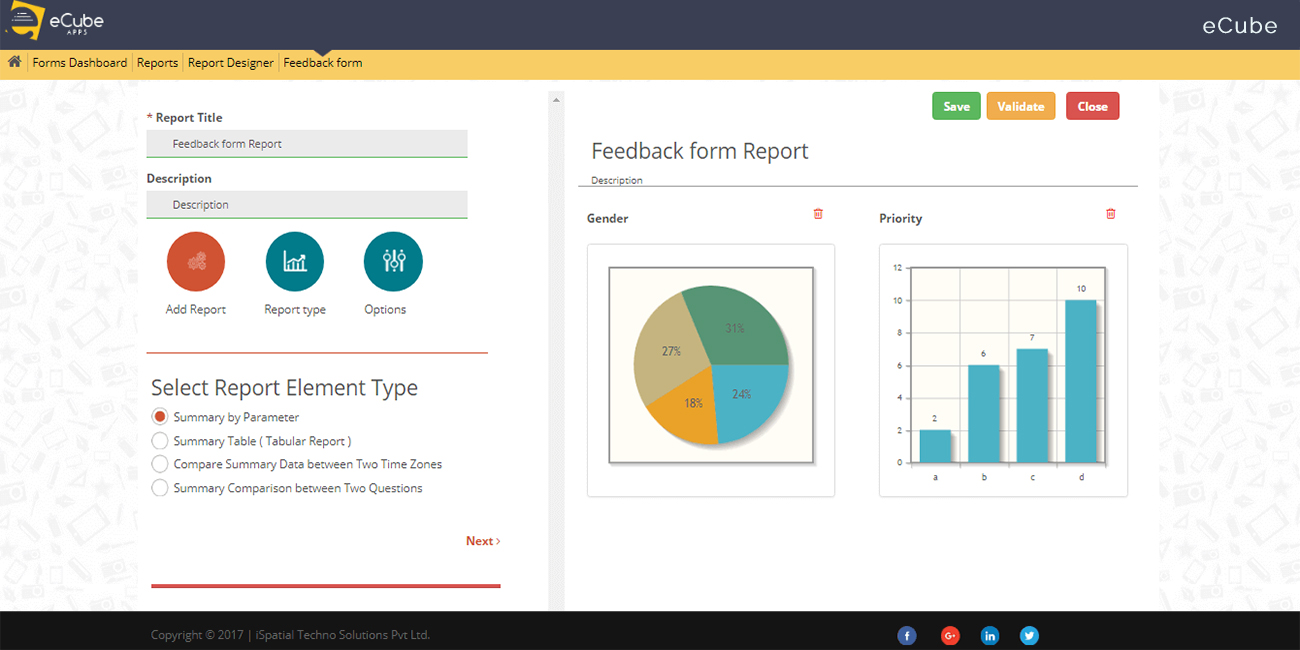 User Management
Include More users and set privileges
It's very common that you need a group of people to access forms for decision making and sharing of monitoring tasks. In such scenarios login is required for a group of associates or to people with different roles. eCube Apps User Management will enable registered user to manage the group account and create sub users to bring in a group of people to work on a special assignment. The user needs to create, view or edit a form, or a Report. You can easily involve your business clients by providing them a user account with specified control over the form and Data.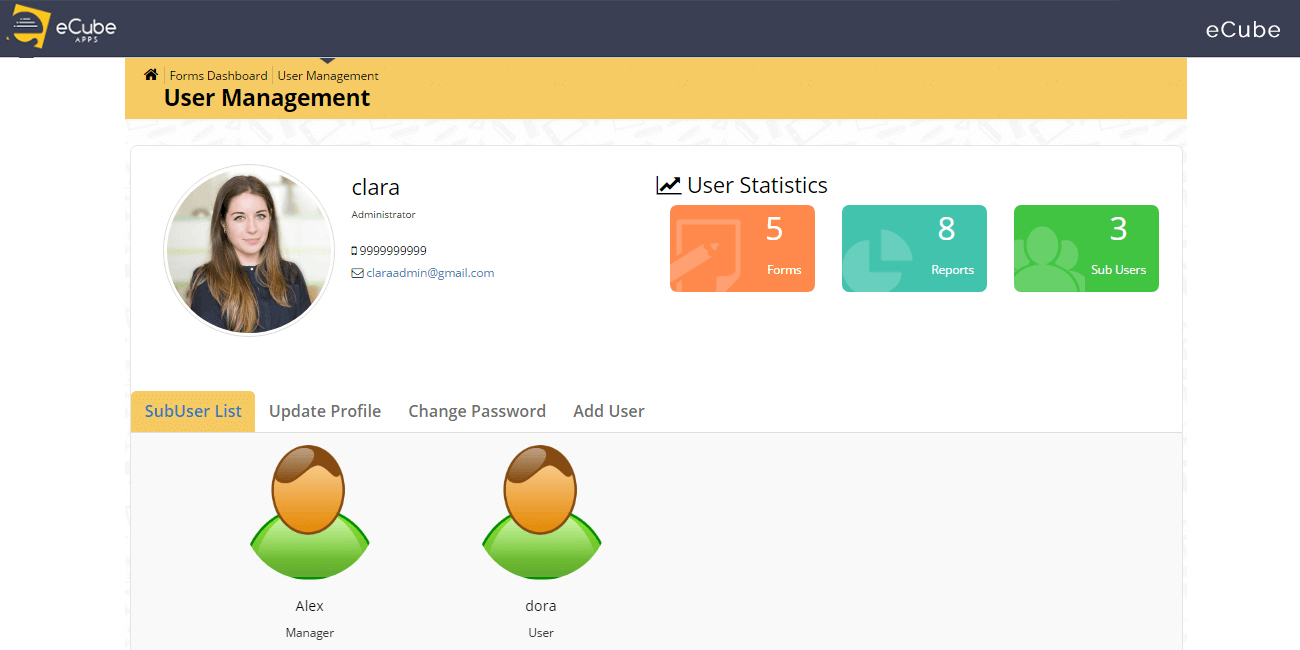 Performance Analytics
How is your Form helping you?
Customized Reports are beneficial once the data is ready. The design and framing of the data collection form also impact the result you can get. Observations will provide insights to change the way we use the form and make changes to it. eCube Apps Performance Analytics comes with reporting on the performance of your form itself. How nice it would be to know how many people are visiting your forms, how much is the conversion rate, where are the people accessing the forms from, what Mobile, OS and Browsers are used to access the forms, what is the traffic of visitors on a daily, weekly, monthly or yearly basis? You have it all with this wonderful feature automatically generated for each form on the fly.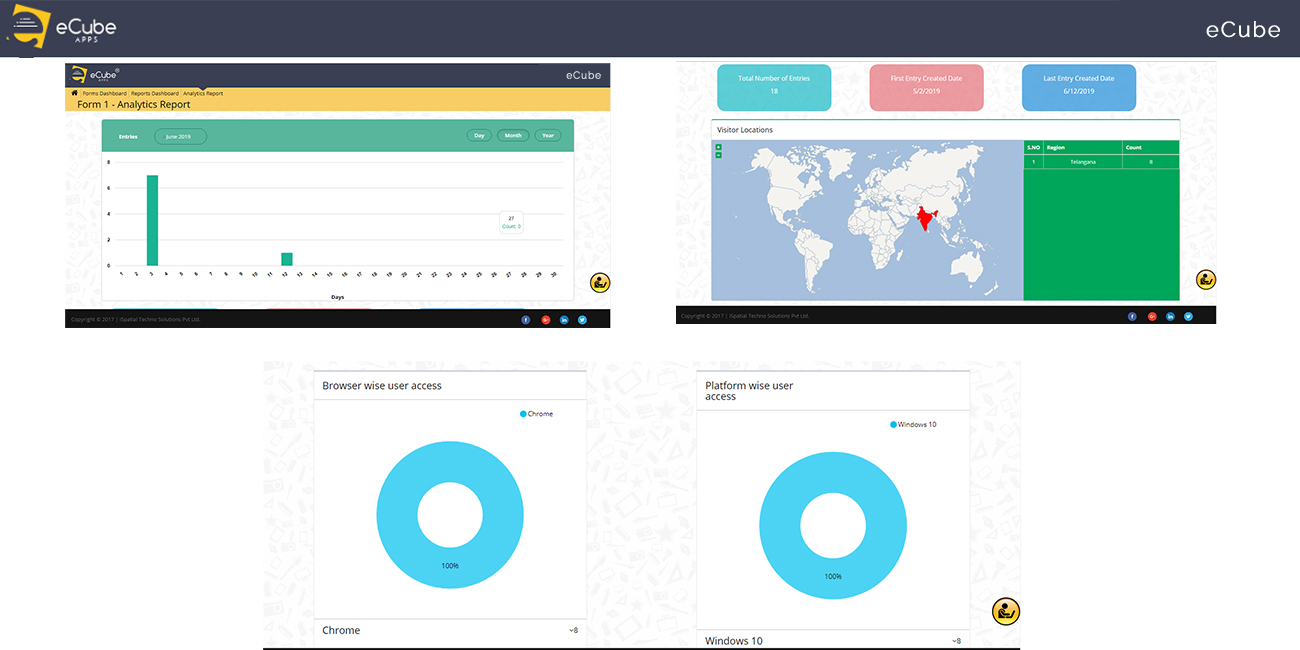 Templates Gallery
Best way to use your Forms
It's very interesting to design your own form and get the information you want from the user in an organized order with a great look and feel. Yet there may be occasions where you want a reference to design your form and present it better to the customers. eCube Apps Template Gallery will enable you to understand the best way to use your forms. Predesigned forms present the business use cases that you can refer and create a better impact on your user.
Besides that, you always have our support to work with forms and make the best use of them. You don't need to worry about which color to pick.
Capture with Captcha
Ensure the Spam free inputs
It is important to allow the customer to fill the form easily and comfortably. At the same time, it is also important to ensure that there is no influence of spam and the forms are filled in by the Human only. eCube Apps Captcha serves you the purpose in both ways. It is your choice to have the Captcha in place or avoid it based on the significance of the form and the expected audience. Just include it when the situation demands and keep your stake holders happy and safe. When data integrity and authenticity is something that you are looking for, then this is for you!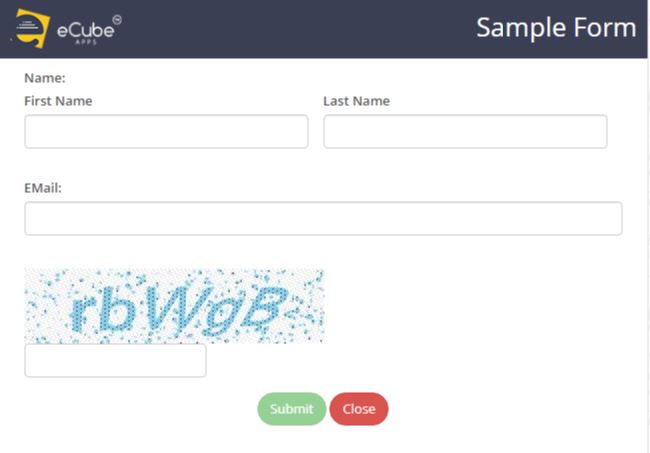 Upload Files
Share Documents and Photos
When you expect a better report from the field verification staff or when you want to get the individual presentations or resume, or when you need the supporting documents that go with user inputs in the form, we look for an easy and convenient option to accommodate this facility to the user. Simply include the eCube Apps File Upload field into your form and share it with people. You will start getting all kinds of documents be it in zip format, photos or word documents, your users can exchange with you effortlessly.
Know that you don't need to buy the space or domain for this, we will host your files and make it very economical for you.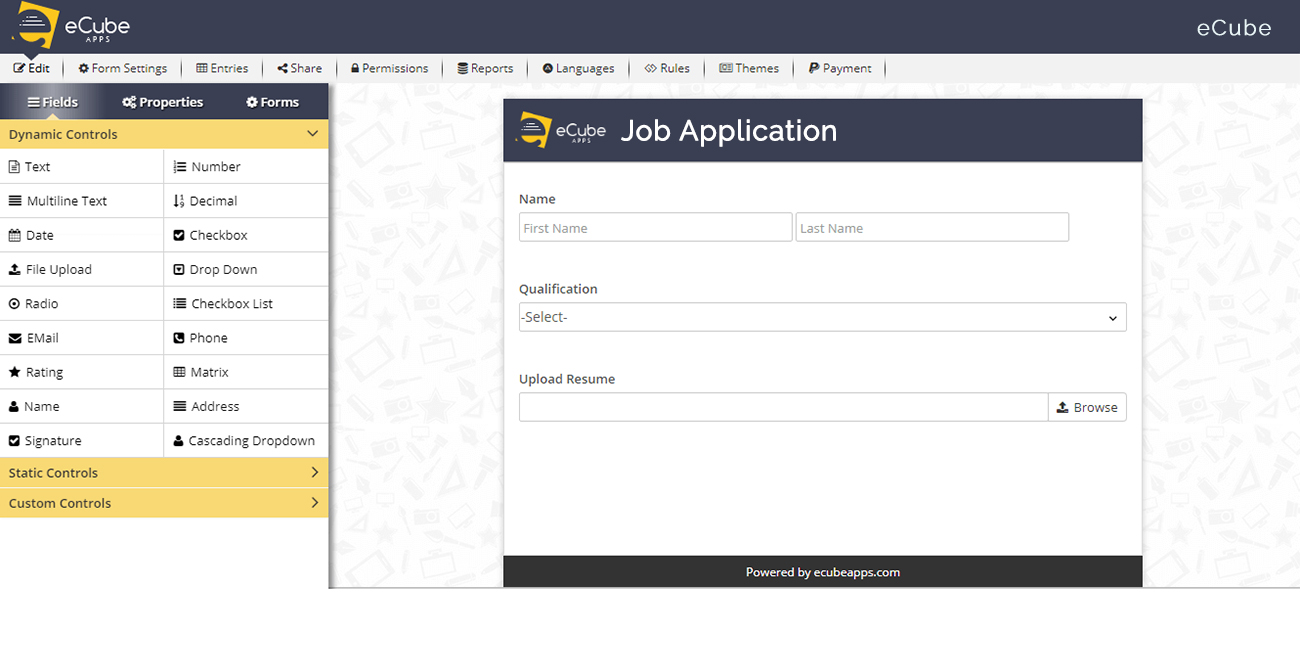 Export Data
Your Data is with you
It is so easy and privilege for you to have all the data required and yet have no hassles of maintaining it on expensive servers. We provide all the tools for you to filter your data and see only the required data to analyze and make decisions. Now because it's your data, eCube Apps provides Export Data option to enable you to take a backup of all the data or to export the only required and nicely filtered data into excel or pdf for-mats. It's now your choice to play with the statistics tools on your data or integrate it into your own sub systems.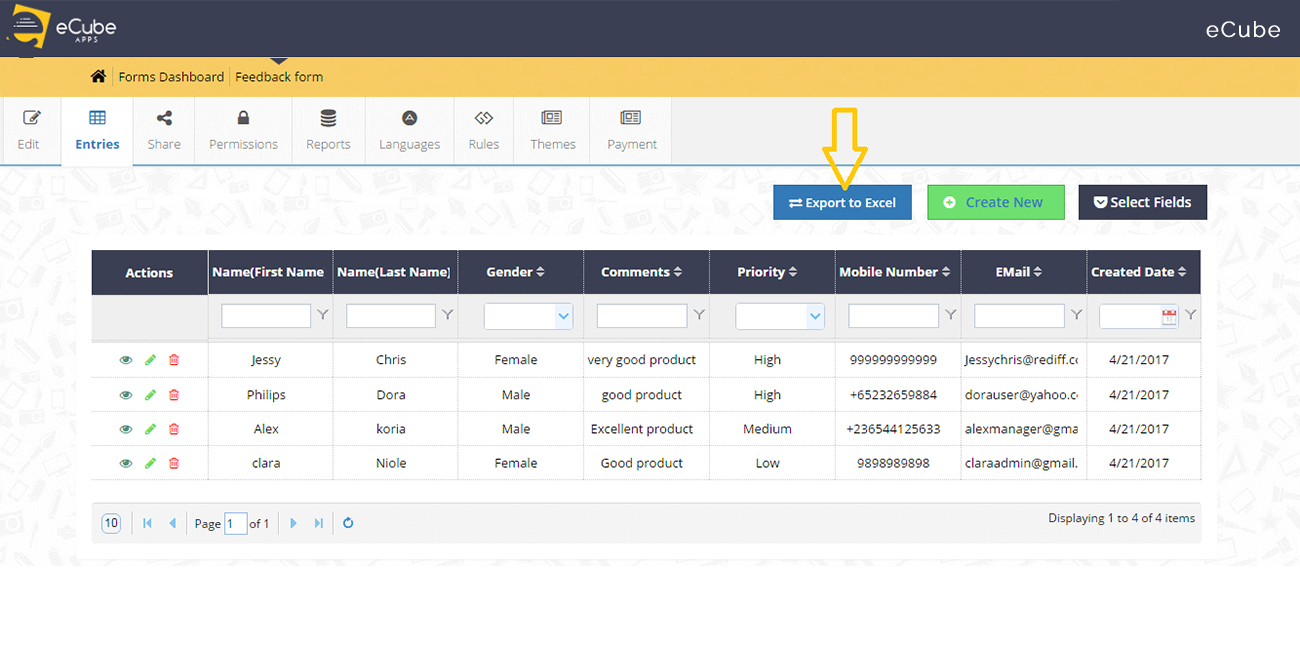 Account Manager
Manage your People and Forms
When multiple forms are used and many users are accessing the forms, you need a tool to organize, control and expand the business possibilities among the user group and your organization. Tracking becomes natural and very important to you. Simply include the eCube Apps Account Management and it provides you options to include more people to work with your forms and share the burden and at the same time, you have the ability to control the access to different users. You can make changes to user information, account information, you can activate or deactivate a form, report or a user. You can share with the forms with the public or private groups to make sure everything is in your control.